We've had several house concerts at our home in the hills near New Glarus, Wisconsin. We've had Grammy winners and International Fingerstyle Guitar Contest winners alike play in our home. It's a great way to listen to music in an intimate, but comfortable surrounding.
Typically we have a pot luck dinner prior to the show, and without a doubt, these shared meals have been amazing.
If you are interested in getting on our mailing list, send me an email with your name and contact info.
All of the proceeds (donations) go to the artist. Please bring cash. We also recommend bringing extra cash to purchase CDs and other items from the artist if you are so inclined.
NEXT CONCERT
   Hiroya Tsukamoto
   Friday, October 13th
   7 pm; potluck dinner from 6 – 7
We are happy to announce that the next house concert will be on Friday, October 13 and featuring Hiroya Tsukamoto. Hiro has played our house several years ago and is traveling again through the Midwest. Send us an email to get more information or reserve your seats. $20 donation.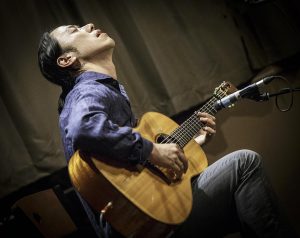 Born and raised in Japan, now residing in New York, fingerstyle guitarist Hiroya Tsukamoto brings a relaxing, storytelling style of music to the stage. Interspersed with flowing vocals, his voice harmonizes with the guitar. Hiroya has been recognized twice with  second place finishes at the International Fingerstyle Guitar Championships. Acoustic Guitar Magazine claims that Hiroya's "fingerpicking is delicate, fluid, and beautifully detailed." The Boston Herald writes "Hiroya Tsukamoto takes us to an impressionistic journey."
Email me to reserve your spot on the list.
Images and video link provided by the artist.
Past House Concert performers have included Antoine Dufour, Bill Miller, Ian Ethan Case, Stefano Barone, Tim and Myles Thompson, Hiroya Tsukamoto, along with Greg Thornburg, David Irwin and Helen Avakian (Red Door Duo), Rui Zhou, Brian Beer, and Jeffrey James (The Jeffrey James Show).